SD/LD-450
Posted by adminrexindoto at March 16th, 2017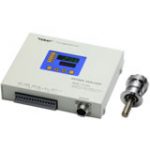 SD/LD-450 is a high performance oxygen analyzer developed for various devices such as vacuum devices on the basis of our longtime reliability and performance in the electronics market.
SD/LD-450 is more durable than ever because our own compact zirconia sensor, by which the long-term stable and precise measurement is available, and oxygen sensor protection mechanism are mounted. In addition, SD/LD-450 can be set to more suitable measurement place by separating oxygen sensor from converter and making the converter wall mounting type. This is the best oxygen analyzer for building into various treatment devices with easy operation.
Features
♦ Setup layout is flexible.

The separated structure of oxygen sensor and thin converter greatly relaxed the limit of installation location.

♦ Space saving

New developed thin wall mounting type converter resolved the concerns about depth.

♦ Super high speed response

The shortest response can be achieved by separated sensor.

♦ High durable sensor

The sensor with special coating realized high durability.

♦ Compliant standard

Compliant with CE marking, EN61010-1, EN61326-1, and RoHS
Measurement Principle
Toray zirconia oxygen analyzers determine oxygen concentration using the conductivity of a zirconia ceramic cell. Zirconia ceramic cells only allow oxygen ions to pass through at high temperatures. With reference gas on one side and sample gas on the other, oxygen ions move from the side with the highest concentration of oxygen to that with the lowest concentration. The movement of ions generates an Electro Motive Force, which can be measured to determine the oxygen content. This is in accordance with the so-called Nernst Equation.
Example of installation (The connection between SD sensor and converter LD-450 is 1:1.)
Specifications
Equipment Specifications
Type
Separation Type (Converter : Wall mounting type, Sensor : Direct insert type)
Display
LED Digital 3 Digits + Unit (%)
Auto Range(Concentration Display) : LED Digital 4 Digits (Display Operation/Setting Content) 0.001ppm – 100vol%O2
10-20-10-0atm
Measurement Range
0-1/10/100/1000ppm/1/10/100%
10-20-10-0atm
Sensor Connection
ISO Vacuum Flange NW16,25,40
or R3/8 screw
Reference Gas
Atmospheric Gas
Weight
Converter Approx. 1.2kg
Sensor  Approx. 0.5kg
Color
LD-450 : Mat White Sensor : Paintless
Dimension
85W × 155H × 40D mm (excluding protrusion)
Feature
Repeatability
±0.5%FS (1% range or more)
±1.0%F.S or ±0.1ppm whichever is bigger (Less than 1% range)
Air Point Stability
±1%FS or less / 24hr
*Please confer with us separately for any request other than above specifications.
Engineering Specification
Measurement value Output
LD-450T : DC4 – 20mA
LD-450C : RS-232C
Recorder Output Range
Select 0-1%, 0-5%, 0-10%, 0-25% or 0-100%
Concentration Alarm Output
H/L
LD-450T:2 points non-voltage contact output
LD-450C : Transmission Output
Equipment Error Output
LD-450T : 1 point non-voltage output
LD-450C : Transmission Output
Sample Gas Condition
No Combustible/Corroded Component, No Halogen, No Silica, No Waterdrop
Pressure: Atmosphere – 1 × 10-3Pa
Flow : 500 – 2000ml/min
Humidity: Dew point below ambient temperature
Power Source
Voltage : DC24V±10%
Installation Condition
Location : Indoors, Non Explosion Area
Ambient Temperature : 0 – 40°C
Ambient Humidity : 45 – 85%RH
Warm-up Time
6 min. or less

Category: Uncategorized