Toray Engineering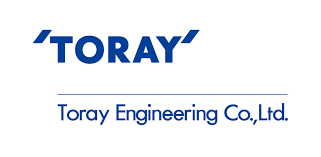 Toray Engineering shares the Toray Group's corporate philosophy of "Contributing to society through the creation of new value with innovative ideas, technologies and products." Led by the slogan of "Innovation by Chemistry" — that is, the materials from which all products are made have the power to fundamentally change the world— we provide the plants that create these materials, and the facilities to make products from these materials, as well as our optimized technologies, software, and services to our customers, both in Japan and abroad.
Striving for sustainable development
As with society, in order for companies to achieve sustainable development they must provide customers with products, technologies, and services. Companies must play vital roles in the development of society and the environmental preservation and harmony.
We are actively engaged in fulfilling our corporate social responsibility (CSR), and all employees and work sites stand united in their dedication to implementing CSR and contributing to society as a corporate group that will hold considerable significance for all stakeholders.
Becoming a highly profitable corporation with strong resilience to environmental changes
Established in 1960, Toray Engineering started out building plants and maintaining production equipment for Toray Industries. A Toray Group company with eleven subsidiary companies in Japan and overseas, Toray Engineering currently engages in three businesses—Engineering, Electronics, and Environment & Energy.
In the Engineering business, we construct polymerization and chemical plants. We also put forward a broad range of solutions. For example, we supply plastic film equipment, industrial equipment such as factory automation systems, and 3D simulation software for injection molding.
In the Electronics business, our Toray Slit-Nozzle Coater (a coating machine for LCDs) is a world leader in terms of market share. We create other unique, market-leading products, as well, including micro-fabrication equipment and high-speed, high-precision bonders, titlers and inspection systems for LCDs and semiconductors. Customers worldwide have expressed immense satisfaction with our products.
In the Environment & Energy business, Toray Engineering has so far supplied products such as manufacturing equipment and systems for secondary batteries (LiB: lithium-ion batteries) and solar cells, and we are also moving into the megasolar business segment, providing one-stop engineering, procurement, construction (E, P, C) and operation and maintenance (O, M) for photovoltaic power generation systems.
In 2014, we launched a new medium-term management plan with the objective of becoming a highly profitable corporation with strong resilience to environmental changes. Close contact with customers, engineering and monozukuri (E&M) and open management were underlined as three key phrases. Technological progress never ceases and Toray Engineering will carry on meticulously responding to the ever more diverse and sophisticated needs of customers through the provision of optimal solutions.