Top Entry Ball Valves
Posted by adminrexindoto at March 24th, 2017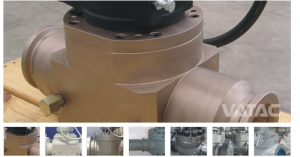 Top Entry Ball valves manufactured by Vatac have complete flexibility in the use of materials for body and trim along with seal gasket selections, which is suitable for the most severe applications, further can be encountered onshore, offshore and in the process industries.
The Vatac top entry ball valve is with a one-piece trunnion supported ball conforms to API specifications 6D and ASME B16.34. All seats are retained in metal holders which are spring-loaded against the ball forlow pressure, firesafe sealing.
● FIRE SAFE FUNCTION: In case of fire and seat construction damage, firesafe requirements are accomplished with automatic metal-tometal positive sealing
● ANTISTATIC DEVICE: A spring between the bonnet and the ball permits electrical continuity
● DOUBLE BLOCK AND BLEED: The double block and bleed condition is available in all seat design configurations; When the ball is in the closed position, the body cavity pressure may be drained down to 'zero' by opening the bleed valve and draining the fluid by removing the drain plug. Each seat works independently assuring tight shut off seal against ball on the upstream and downstream side.
● EMERGENCY SEALANT INJECTION SYSTEM: The Sealant Injection System located on the bonnet can be utilized in case of emergencies, o-ring damage, or if stem leakage occurs.
● HEAVY DUTY BEARINGS: Heavy-duty PTFE lined bearing eliminates the need of lubricating stem and trunnion journals, resulting in smooth and easy operation of valve. Upper stem and lower trunnion bearings balance the pressure load on the ball by reducing friction between ball and seat.
GENEARL DESIGN FEATURES
● One-piece flange top-entry trunnion design
● Double block and bleed
● One-piece ball and stem assures precise positioning
● Anti blowout one-piece ball/stem design
● O-rings plus fire-safe packing prevents leakage
● Corrosion resistant low friction bearings
● Wave springs provide upstream and downstream sealing
● Stainless Steel Sealant injection fittings for emergency stem of seat sealing
● Inline repairable due to reasonable seat retainer design
● Minimized torque required to open and close valve
● Anti-static grounding between ball, stem and body
● Integral top works direct mounting pad
● ASME B16.34, API 6D, API 6A, 607 and 6FA, NACE MR 0175
● CE Marked (P.E.D.97/13/EC)

Category: Uncategorized