Model 901 Headspace Oxygen Analyzer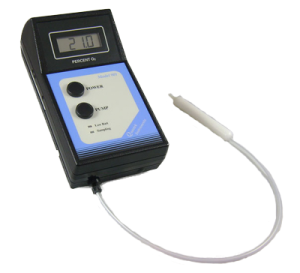 The Quantek Model 901 is a battery-operated, portable headspace oxygen analyzer.
Other headspace analyzers require a new sensor every 1-2 years. But our flagship headspace oxygen analyzer, which is used by small and large food packagers, producers, and quality control personnel throughout the world.
Use it in the lab, or on the packaging line. Non-technical personnel will find it very easy to use – and at less than 3 pounds, it can be easily transported to other locations.
HOW TO SAMPLE YOUR PACKAGES
The sample probe is tipped with a filter and needle. Simply affix the foam septa to your package, insert the needle through the septa, and press the pump button. Sample is drawn through the probe and into the internal oxygen sensor. The residual oxygen concentration displays within 15-20 seconds.
LOWEST TOTAL COST OF OWNERSHIP
The Model 901 oxygen analyzer is the market leader for durability, simplicity, and reliability. The initial lower cost, and longer-life sensor, makes it the industry leader in handheld portable headspace oxygen analyzers.
ABOUT THE INTERNAL OXYGEN SENSOR
The sensor is unaffected by high levels of background gases such as nitrogen or carbon dioxide, and unaffected by trace hydrocarbons. You can use the Model 901 for applications where oxygen level is very high (50 to 100%) without overloading the sensor. The expected electrochemical sensor life is typically 5 years, unlike other analyzers with an electrochemical sensor that last 1-2 years.
LIQUID BLOCKING FILTERS
Sample with confidence using our liquid blocking filters – all contamination is blocked from entering the analyzer, reducing downtime significantly.
Technical Specifications
Range: 0.0 to 100% Oxygen
Resolution: 0.1% Oxygen
Accuracy: +/- 0.1% (below 10% oxygen).
Minimum Detection Limit: 0.1%
Drift: less than 1% per month
Sensor: Proprietary electrochemical cell, expected lifetime 4-5 years
Sample Pump: Internal, draws ~5cc/sec, with 2-12 second adjustable timer (on side of unit)
Sampling Assembly: Probe with male luer connection for side-port needle, PTFE tubing
Calibration: Calibrates with room air; SPAN adjustment on side; ZERO adjustment on side
Calibration Frequency: Minimum once per year
Power Supply: Four "AA" NiMH rechargeable batteries; auto shut-off after 45 minutes idle. 100-240V (50-60Hz) Charger included, with US or international interchangeable plug adapter (upon request)
Backup Power: Four "AA" alkaline batteries (not included)
Input Voltage: 100-240V, 50-60Hz
Battery Life: 10-14 hours before recharging
Size: 8 x 4 x 1.8 in. (200 x 100 x 40 mm)
Weight: 1 lb. (450 gms)
Warranty: 2 years, parts and labor
Standards: CE, RoHS
Included Consumables: 200 foam septas, 2 luer fit needles, 2 particulate filters, 2 liquid block filters
Included Documentation: Owners manual (includes operating instructions with detailed calibration instructions, calibration certficate, precautions), NIST calibration certificate
Origin of Goods: Our products are manufactured in the U.S.A.
Application :
Meats
Dairy Products
Produce
Snack Foods
Baked Foods
Prepared Meals
Coffee
Pet Foods
Dessert Foods
…. and many More