Model 201 Portable Oxygen Analyzer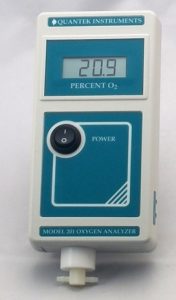 The Quantek Model 201 is a portable oxygen analyzer used primarily for the measurement of O2 concentration in gas flows, chambers, or gas flushed hoods (such as glove boxes).The analyzer comes with both an "open faced" fitting and a T-fitting, allowing it to be used for analyzing gas flows, or set in chambers where oxygen levels need to be monitored.
The sensor operation is not sample flow dependent, and accurate results are obtained on both static and flowing samples.
HEAVY DUTY, LONG-LIFE SENSOR
The sensor is a proprietary electrochemical type with a measurement range of 0.0 to 100%. Excellent linearity through the entire range allows a calibration with one set point using room air. It is unaffected by high levels of background gases such as nitrogen or carbon dioxide. The Model 201 can be used for applications where the oxygen level is very high (50 to 100%), without overloading the sensor. It is unaffected by trace hydrocarbons or high levels of CO2, which can poison other types of sensors, and operates independent of flow rate.
BATTERY OR AC OPERATION
The Model 201 comes in two configurations – pick either AA battery operation, or AC power operation to allow for 100% uptime.
---
Specifications
Technical Specifications
Range:  0.0 to 100% Oxygen
Resolution:  0.1% Oxygen
Accuracy:  +/- 2% of reading
Minimum Detection Limit:  0.1%
Drift:  less than 1% per month
Sensor:  Electrochemical Cell (expected lifetime 4 to 5 years)
Calibration:  Calibrates with room air; SPAN keypad adjustment on front panel
Calibration Frequency:  Minimum once per year
Power Supply:  Two "AA" alkaline batteries;
Size:  90 x 40 x 140 mm
Weight:  1 lb. (450 gms)
Warranty:  2 years, parts and labor
Standards:  CE RoHS
---
Applications
Process Applications
Gas flow analysis
Welding Applications
Bioreactors
Gas Blending Systems
Fruit Storage Areas
Fermentation
Controlled Atmosphere Rooms
Glove Box Applications
---
What's Included
1/4 in ID open inlet fitting (for setting in a chamber)
1/8 in "barbed" T-fitting (to capture gas and keep your system closed)
4 AA alkaline batteries (for battery powered version) OR 5V DC power supply (for power supply version)
---
Optional Items
Optional AC power configuration – includes 5V AC to DC adapter; international prongs for EU, AUS, or UK style outlets