Clean Gas Sampling Equipment Built-in Type LC-750L/PC-120
Posted by adminrexindoto at March 16th, 2017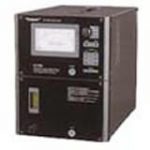 Features
This ppm-order zirconia oxygen analyzer enables continuous measurement by adding a built-in gas suction pump to our well-established LC-750L model―a ppm-order zirconia oxygen analyzer which employs Toray Engineering's unique zirconia sensor, and is suitable for control and monitoring of processes such as atmosphere treatment and baking, and all types of experiments and research.
Main Specifications
Type
Portable or panel-mounted
Display system
Digital
Analog
Measurement range
0-10 / 100 / 1000 ppm / 100 vol%O2
Response speed
Within 90 sec (90 % response)
Repeatability
Within ±0.5 % of full scale (at or above 1 % range)
Within ±1 % of full scale (below 1% range)
Sampling system
Continuous suction
Reference gas
1000-2000 mL/min
Reference gas
Air
Recorder output
DC 0-10 V
4-20 mA
Alarm output
Upper/Lower limit alarm
Ambient temperature
0-40 °C
Warmup time
Approx. 20 min
Dimensions
210(W) × 288(H) × 327(D) mm
Weight
Approx. 10 kg
Panel cut dimensions
225(W) × 269(H)
Gas connection
Rc1/4 (Female)
Power supply
AC 100 V 50/60 Hz
Max. power consumption
200 VA
Specifications are subject to change due to product improvements.

Category: Uncategorized