Oxygen Analyzer for Built-in Packing Machine LF-200
Posted by adminrexindoto at March 16th, 2017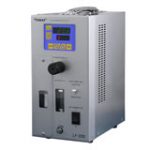 The LF-200 zirconia oxygen analyzer was developed for automatic gas filling packaging equipment based on Toray Engineering's long track record with oxygen analyzers for the food packaging industry.
This analyzer is equipped with our unique, compact zirconia sensor to enable stable and highly accurate measurement over the long term, and an oxygen sensor protection mechanism for unprecedented durability. This is an easy to operate, compact oxygen analyzer which is ideal for integration into automatic packaging equipment for foods, pharmaceuticals and other products.
Features
♦ Protection against oils

The system is equipped with a new type of filter to improve measurement of gases with dispersed oils. The filter can be replaced without removing the analyzer from the panel.

♦ Suction pump protection function

Enables pump protection while avoiding problems due to on-site cleaning caused by blowing air.

♦ High-speed response

Internal pipe flow which minimizes gas stagnation at points of measurement.

♦ Power supply

AC200V is provided standard, for ease of integration into packaging equipment (AC100V is optional).
Principle of Measurement
Toray zirconia oxygen analyzers determine oxygen concentration using the conductivity of a zirconia ceramic cell. Zirconia ceramic cells only allow oxygen ions to pass through at high temperatures. With reference gas on one side and sample gas on the other, oxygen ions move from the side with the highest concentration of oxygen to that with the lowest concentration. The movement of ions generates an EMF (Electro Motive Force) which can be measured to determine the oxygen content. This is in accordance with the Nernst equation.
LF-200 Internal Flow Diagram
Specifications
Equipment Specifications
Type
Panel-mounted (Portable type is optional)
Display system
Digital 4-digit display (O2 concentration)
Measurement range
1 ppm-100 vol%O2
Display range
0-1000 ppm / 1 / 10 / 100 %, automatic
*The 1000 ppm range is not guaranteed
Output range
0-0.5 / 5 / 10 / 100 %, Fixed
Sampling system
Two methods: continuous suction with a built-in pump, and injection
*Injection method is not guaranteed
Supply gas rate
1000 mL/min
Sensor gas rate
60 ± 10 mL/min
Gas connection
INLET (Sample gas inlet): Rc1/8
BYPASS OUT (Bypass outlet): Rc1/4
OUTLET 1 (Sample gas outlet1): Rc1/4
OUTLET 2 (Sample gas outlet2): Rc1/4
Reference gas
Air
Weight
Approx. 7 kg
Paint color
Front, back: Silver metallic
Cover: Stainless
Characteristics
Repeatability
Within ±1 % of full scale (at or above 0-1 % range)
Within ±2 % of full scale (below 0-1 % range)
(0-1000 ppm is not guaranteed)
Air point stability
Within ±0.5 % of full scale/24h
Measurement value output
External output: DC 4-20 mA
Concentration alarm output
LED display (Upper/Lower limit)
Contact output: 2a individual output
Contact: AC 30 V DC 30 V, 0.5 A
Self-diagnosis functions
Warmup error, Thermocouple error
Internal temperature error
CPU error, Furnace temperature error
Asymmetry potential error, Sensor resistance error
AIR point calibration error
SPAN point calibration error
Sample gas conditions
Must not contain flammable components, halogen, silica, corrosive components or water droplets.
Pressure: Pressurized at 0.03 MPa max.
Flow rate: 1,000-2,000 mL/min
Temperature: 50 °C max.
Humidity: Dew point lower than ambient temperature
Power supply
Voltage: AC 200 V, Wired to terminal block
Frequency: 50/60 Hz
Set up conditions
Set up location: Indoors, Non-explosion-proof zone
Ambient temperature: 0-40 °C
Ambient humidity: 45-85 %RH, No condensation
Equipment options
Communication output (RS-232C compliant, unidirectional)
Activated carbon filter, Cotton filter
Power supply voltage AC 100 V
Engineering Specifications

Category: Uncategorized